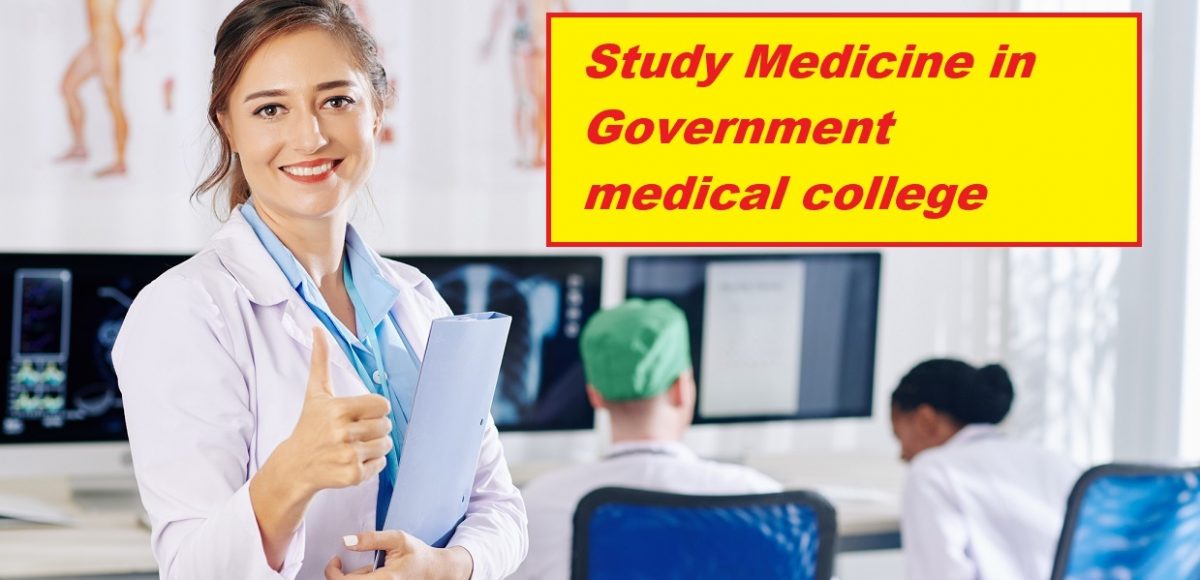 Benefits of studying MBBS in Government Medical College
Medicine is a well-known health discipline and also very popular in the world which needs skilled and experienced healthcare professionals at every phase of life to maintain the physical health of people and provide treatment for various diseases that people may be ill whole life.
Medicine is the most opted career at both levels i.e. at the entry-level where the cut-off marks should be high to study medicine and the level of time spends before being a professional in healthcare where continuous training is required.
If you are going to complete your 12th class, this article is very beneficial for you and provides you the necessary information. You already choose your career for future studies but you don't know which place is best for your studies. The students who want to study in their own country or abroad, this question frequently comes to their mind that they may choose Government Medical College or Private Medical College? The medical aspirants have both the options but which one is best, you may decide after reading this article. This will help you to decide whether you want to study in any Private Medical College or Government College.
In the past few years, many institutes have been grown up for medical studies. The students can get many offers of institutes but you must consider which option is best for you: Government Medical College or Private Medical College?
Though, before deciding anything, you must consider the main elements which affect your decisions such as yourself, your requirements, and your financial conditions. All these factors affect the decisions of your medical college chosen.
Advantages of Government Medical College
To take a decision easily, you must know some of the features and advantages of Government medical college as compare to private institutions:
Reachable Education
Government medical colleges are organized, managed, and financed by the state government, this is the reason that government colleges are easily accessible to every student. The students need to pay only tuition fees and the tuition fees are very low and affordable. It will become the best option to study medicine but the potential of investing are very limited.
Quality of Education and Demand
Many Government Medical Colleges like Cagayan State University invest in development and research area. To achieve the goals of the research, the college needs good and experienced teachers in different fields. These teachers will help to develop the knowledge and dedicate their lives to gives knowledge to the students. This is the best reason to choose Government Medical College for studies because you can get knowledge from the best and experienced teachers.
Extensive Educational offer
Government Medical College offers great career options and it is the most important benefit of it. The Government Medical University is financed with government money, so it provides various opportunities to a high range of careers that may not be supposed to be profitable for different Private Medical Colleges. The young medical aspirants have an interest in study in Government Medical Colleges for related degrees.
Superior Ideological Autonomy and Independence of Students
The Government Medical University promotes critical thinking, freedom to express thoughts, and various best ideologies of the students and teachers. These are the main characteristics of Government Medical Universities.
The private universities are confined to particular ideologies related to a limited belief that is limited to a few facts and ideas.
Similarly, the Government Medical College encourages the self-sufficiency of the students and holds a large number of students. The authorities of the institution and the teachers do not imply strict rules on the performance of the young medical aspirants because the work will need immense dedication and discipline to complete their course within a given time.
Good patient Inflow
Every medical aspirants who has doctor dreams in their mind always prefer government colleges as their primary choice. Most students are concerned about good hospital facilities attached with the medical college. There must be sufficient patients inflow to the hospital that will help students in gaining better clinical knowledge.
Most government medical college in India have high patient inflow where medical practitioners will have possibility to examine patients with most common diseases. Top Government Medical College in Philippines like Cagayan state University which is most recommended by CHED and NMC also remains top choice among the students looking to study MBBS in Philippines.
Disadvantages of Private Medical Colleges
Apart from the various advantages of the Government Medical College, there are some disadvantages of Private Medical Colleges. Some disadvantages are listed below:
The investment is comparatively high
If you think about studying the medical course in any private medical college, you should pay a high amount as tuition fees which may lead to big monetary sacrifices for families. The fees may be variable which is not in favor of students and the students do not have the essential possessions to study in Private Medical Colleges.
Restricted Educational Offer in Private Colleges
Most of the Private Medical Colleges do not offer a wide educational offer as compared to Government Medical Colleges. This will lead to more investment in resources and development in the infrastructure of related degrees. The patient inflow will be very less that will affect the medical student during their clinical rotation.
There may be suppression or limitation of ideologies or beliefs
Some private colleges are religiously motivated. There is a possibility of making you uncomfortable if you are interested in the debate on various political and social issues of significance. These types of colleges will not allow you these things.
Everyone wants to express their ideas and thoughts freely. No one wants to limit their mind, so if you do not want to decrease the quality of the college experience then you should think about it twice.
Conclusion
The government medical colleges are managed, organized financed by the state government. The students should pay the low fees which are affordable as compared to the private colleges. The students of Government Medical Colleges will provide equal opportunities for every student.
There is a possibility of low tuition fees for the special group children such as disabled students, single-parent children, victims of a terror attack, large family, etc.
The students can get scholarships in both Government Medical College and Private Medical Colleges.
The students can get more resources in Government Medical College for research.
The Government Medical Colleges encourage the self-sufficiency of students and the teachers never impose strict rules on students. The students are free to do their work according to them.
According to the discussion, it is clear that Government Medical Colleges have many advantages over Private Medical Colleges. But you are free to choose the college where you want to study.