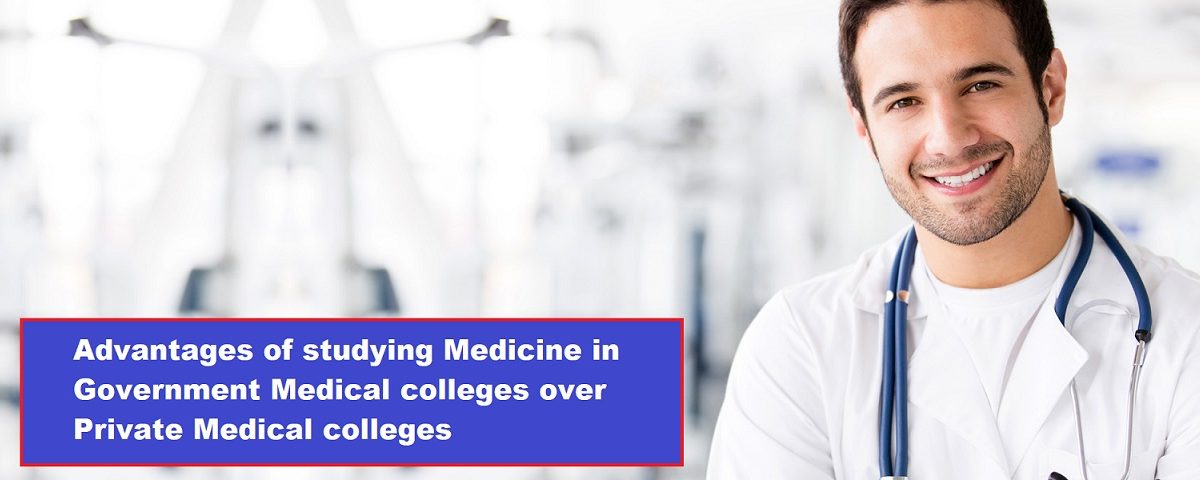 Advantages of MBBS in Government Medical College
MBBS in Government Medical College – A Better choice for Medical aspirants
Medicine is one of the most popular and well-known health disciplines, requiring the services of competent professionals at all ages and at all stages of life in order to maintain physical health and treat the different diseases that we may suffer throughout of the life.
At the training level, it is also one of the most demanding careers both at the entry level (the cut-off mark to study this career is at least one of the highest) and at the level of time invested before becoming a professional (other careers also require continuous training, but usually the title is obtained earlier).
If you are reading this article, it is very likely that you are about to finish high school, you already have an idea of ​​what career to study but you still don't know where to study. One of the questions that come into mind of every student who is seeking to study abroad or in their own country is whether they should go for Government medical college or Private medical college? It is no doubt that you will get both the options but let us make it easy for you why you should prefer to study in government medical college over any private college.
The offer of institutions has grown in recent years and as if this were not enough, you should also analyze what is best for you: study MBBS at a government medical college or private university?
However, before anything else, you should know that the main element of this decision is you, your needs and of course, the financial capabilities of your parents. With this in mind, we will tell you about some of the characteristics and advantages of government medical college over private institutions:
ACCESSIBLE EDUCATION
Government medical Universities are financed largely by the State, this makes them accessible to all students.
Many of the government medical institutions ask for the payment of tuition, however, most of these fees are symbolic or very low, which makes them an excellent option if you want to study a career but your possibilities of investing are very limited.
EDUCATIONAL QUALITY AND DEMAND
Most government medical universities such as Cagayan State University invest in research and development and to achieve this, they look for great teachers and eminences in various fields. These academics dedicate a large part of their lives to the development of knowledge and this is the reason why, if you have the opportunity to study your career at a government medical university, you will always have access to the best teachers.
WIDE EDUCATIONAL OFFER
Another advantage of a government medical university is the great offer of careers it offers. Being financed with government medical money, these Universities have the opportunity to offer a wide range of careers that may be perceived as not "profitable" for private Universities, but that do have young people interested in studying them, especially if they are related degrees.
GREATER IDEOLOGICAL FREEDOM AND AUTONOMY OF STUDENTS
Government Medical College are characterized by promoting critical thinking, freedom of expression and the different ideologies of their students and academics. Most private universities are subject to specific ideologies related to a specific creed, which can limit the debate on some ideas.
Likewise, being a Government Medical College university with a large number of students, the institution encourages student self-sufficiency. The teachers and authorities of a Government Medical College school do not exercise strict control over the work and performance of young people, which will require a great commitment and discipline on your part to be able to finish courses and subjects on time.
On the Other hand, the private medical colleges have certain disadvantages, few of them are listed below:
Disadvantages of Private Medical Colleges
THE INVESTMENT IS VERY HIGH
Studying a degree at a private university implies a high investment and sometimes great financial sacrifices for families. This is a variable that works against students who do not have the necessary resources to study in any of these institutions.
However, as we mentioned above, you can always apply to one of the scholarships that these Universities offer.
LIMITED EDUCATIONAL OFFER
In many cases, private universities do not have an educational offer as wide as that of Government universities, although this allows them to invest more resources in their infrastructure of said degrees.
THERE MAY BE CENSORSHIP OR LIMITATION OF IDEOLOGIES
Some of the private universities are religiously inspired, which can make you uncomfortable if you are looking for a school that allows you to debate on social and political issues of relevance.
Not everyone is willing to limit their freedom of expression and thought, and if you think this may lower the quality of your college experience then you should take that into account.
Lack of Infrastructure
Most Students who are unable to secure Admission from a Government Medical College look for Private Medical colleges. Most Students Who are looking to study MBBS Abroad also look for an Government Medical college as their priority.
Conclusion
The Government medical colleges such as Cagayan State University is financed by the state. Students must pay a tuition fee each course, but it is much lower than the private system. In this way, Government Medical College institutions try to guarantee equal opportunities for students.
Studying MBBS in Government Medical College offer tuition reductions for groups with special protection: students with disabilities, large families, single-parent families, victims of terrorist attacks, etc.
Both Government Medical College (MEC) and private organizations make scholarships available to students.
Government Medical College universities dedicate more resources to research.
The system of Government Medical College schools tends to favour the self-sufficiency of students. Teachers do not exercise such strict control, so the student regulates his own work.
As you can see, that Government medical colleges have some advantages over Private medical universities, but in the end, the most important variable that will lead you to make a decision about where to study your career is you.